The best part of selecting Martin Creed for the MCA's 2012 residency was that the work appeared to be so accessible—each object was composed of familiar, everyday materials arranged in unfamiliar yet logical ways. The residency format was also the perfect approach for the MCA to present his work: for the next twelve months we would place the works in unconventional places in the museum building, breaking with the logic of a traditional exhibition. Working in collaboration with Martin, we'd simply give the building over to his ideas and works.
Easy, right?
Just weeks into the project, we realized that all the checklists and timelines we'd developed for the residency fell hard and fast in the wake of a series of unforeseen challenges. Who knew cacti can only be brought to the Midwest within a certain window of time? Since when did pigeons make it a habit to chase neon signs? The entire team had to react quickly and fluidly with newfound flexibility, challenging how we function as an institution. But it was also a time for experimentation, creative thinking, and some fun, novel solutions. Here are a few of the lessons the MCA learned during the 2012 residency:
1.      Alternative projects need alternative interpretations.
Museums generally see their basic function as a place to exhibit artworks and to explain works to their audiences, but it's not always the case that artists are super thrilled about how museums interpret their artworks. Martin Creed, for instance, resists using the word "art" in relation to his practice and specifically did not want traditional extended wall labels next to his work. Gasp—that's 50% of our basic function! But that didn't mean we had to be passive about interpretation and, after a series of conversations with Martin, we landed on the idea of having the artist himself speak to some of his ideas—recordings of which became the audio tour—and we also developed a residency newspaper. In the paper, we invited friends from Chicago (mostly non-museum people) to offer their thoughts about the work, as a way of talking around and about Martin's work without explaining it away. Guess what? Martin loved it! And now we have a beautiful record of the residency to boot.
2.      Make a plan, stick to it, and then be prepared to throw it out at a moment's notice.
What better time to exhibit plants than in the spring when the earth is budding after the cold, hard Chicago winter? Little did we know that plants don't like traveling through that cold, hard winter to get to Chicago in time for a spring debut. That and, well, it took about five tries to find a greenhouse that could provide thirteen different species of cactus in the right sizes and in duplicate (we needed back-ups). That was one of about six projects whose dates had to be switched because they presented a material or time challenge (I offer a free tour to anyone who can come in with a 40-penny nail within three days of this posting). But what we soon learned was that we could incorporate these surprises into the residency itself. Unlike a conventional exhibition, where everything is planned in advance and executed accordingly, we had to be organic in mounting and unveiling works as the time and materials allowed us.
3.      You're not an expert at everything.
So, it takes a few thousand more balloons to fill a space than we originally imagined—should we hire more interns with healthy lungs? Labor aside, we also didn't realize beforehand that you simply can't stuff a few thousand balloons into a space: the static will pop them all. Also, how do you control these unwieldy things? No, we can't handle thousands of balloons at a time on our own, but we learned to lean on friends and partners to help when necessary. This is where experts such as the Northern Illinois Balloon Network, who've been doing exactly these sorts of things for years, come in handy. But we also learned to be creative about some things. When Martin called on as many people and institutions as possible to ring a bell at the start of the London 2012 Olympics, the MCA really wanted to participate but didn't want to turn the building alarms on, scaring the neighborhood and the local fire department. We simply sent out a building-wide meeting reminder for that time (about 2 am CST) and asked everyone to keep their computers on and volume up. We got a great certificate of thanks from the Olympic festival committee!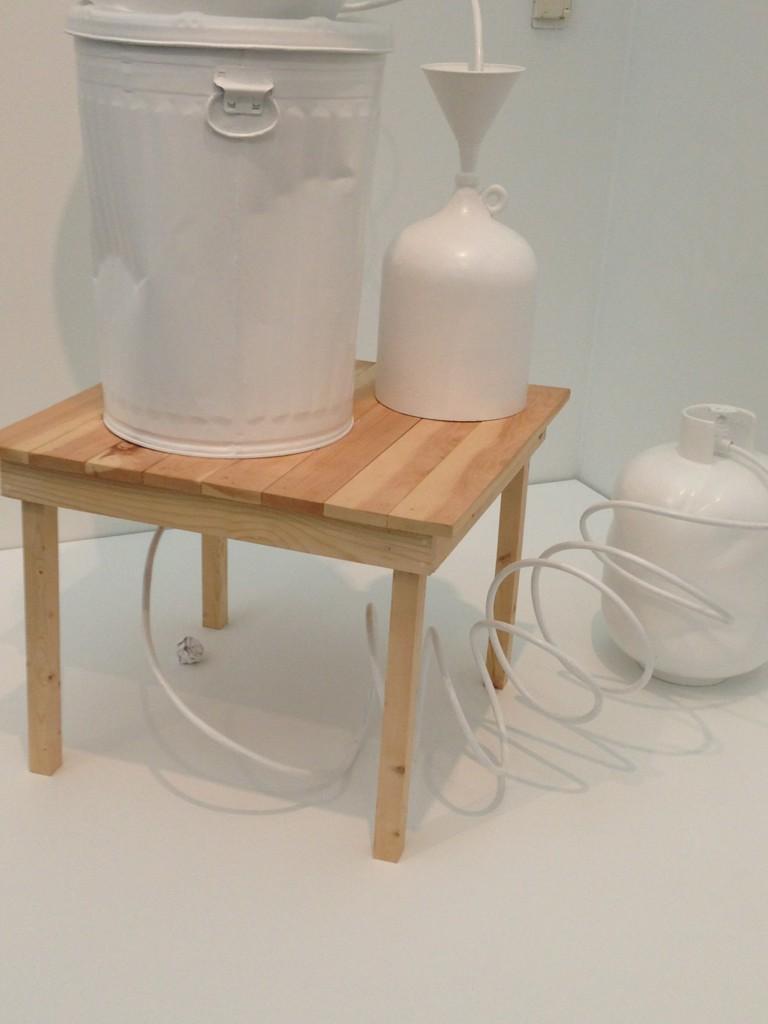 4.      Sometimes the audience will tell you what the work is.
One of the funniest Creed works consists of placing a crumpled paper ball in every public space in the building. Firstly, this actually requires a special crumpling technique to make sure the paper stays in a perfect ball shape. Secondly, we never expected that this would become a profile test for visitor behavior. Some deeply concerned visitors picked up the balls and handed in the "trash" to the admissions desk! Less cautious visitors kicked the balls out of their set places. "Enterprising" visitors took the balls home. The most creative response was that of a visitor who took a sheet of paper from a Félix González-Torres work that is currently on view, crumpled it into a ball, and placed it next another crumpled paper ball. It was an inter-artist collaboration (or reinterpretation?) we could have never imagined. While we knew that Creed's artwork was designed to "disrupt" the space, it was our audience who really made the work into something interactive and unanticipated. Generally, I don't think I would be so charmed by these events—and I would like to underscore that a work in a museum should NOT be touched unless otherwise noted! But Creed's wry sense of humor and work with humble materials allowed us to step back for a moment and look afresh at our audiences' relationship with the building and understanding of what can constitute a work of art.
5.      We can do things we didn't know we could do.
Tuesdays on the Terrace is a warm-weather institution here where we present amazing jazz. So, when Martin decided to cut his first solo album and needed trained back-up singers, we looked right into our Rolodex and found two talented ladies who had performed here in the past. The MCA isn't really in the business of producing albums, but we were able to galvanize and pull together the resources to make what Martin calls his best album yet.
What does it take to install a forty-foot sculpture on the MCA's plaza? We didn't quite know at the start of the residency but, in record time, we figured out how to rig the plaza with power, work with a specialized fabrication and programming crew from England, maneuver some massive shipping containers through international customs, and, of course, practice diplomacy with our ever-understanding neighbors who will live with the MOTHERS sign for some time. And what a gift it has been to the city. Sometimes, it takes a new project to awaken new skills.